45 days to Snowdon 2012 – Barbara

I HATE WALKING UPHILL
(+ other associated exercising challenges)
The above statement about myself is one that I hold dear.  I recall in the early 'love  sick' days of my relationship with Steve, going on a walking holiday with him to Derbyshire, where I vividly remember crying with rage as I attempted to climb one particularly steep hill.  My all-too-ready description of myself is that I hate exercise and I am pretty rubbish at it.

However, last year I accompanied Steve to north Wales, a magical place, where he climbed Mount Snowdon, as part of the 2011 Climb Mount Snowdon Event.  He had such an amazing time even though the weather was awful and he hurt his knee, that I was tempted to join him this year!
So anyway back to the present: I have now committed to climb Snowdon on Sunday 26 August to challenge myself, get a bit fitter and raise money for Climb Any Mountain, a cause that is very close to my heart.  Once I have reached the summit, I might even decide to walk down again, but at the moment my plan is to take the train!
This blog will be about sharing my experiences of training and what shows up for me as a result of that.  I plan to create a detailed training plan to keep me on track and get match fit for the climb.  This may not seem a biggie for some, but for me it will be a breakthrough.
To start me off I have just put my trainers through the washing machine – and I'm ready to go………..
 15 July, 2012
In the next 42 days I want to try an increase my fitness levels – not just by walking uphill, but trying to improve in other areas of exercise. So I bought myself some new goggles and for the first time went to the open air Lido pool at London Fields.  It is a 50m heated pool right in the heart of Hackney which was first opened in 1932.  It has been beautifully restored and you can find some amazing photos of people swimming in the pool with snow on the ground around them.
I find going somewhere for the first time is always a bit daunting as there is often etiquette to become familiar with – i.e. which lane to swim in, can you leave your flip flops by the pool etc..
When I got to the pool side I could see there were lots of very serious swimmers powering up and down the pool.  Normally I might find this a bit daunting but the atmosphere was so serene and calm that it was not off putting at all.  I love being in the sea so being able to swim outside in the heart of the city feels very uplifting and inspiring.  I actually quite like swimming (maybe because it is not uphill!) and I do a reasonably good breaststroke. The water felt warm enough for me to swim underwater and I ended up swimming 500m which is a good start.
This week I have also joined the local gym down in Dorset and I have a gym induction next week.  And I lost 4lbs this week at Slimming World!  I am eating salad and fruit for England but I am starting to have more energy and the thought of the 1000m climb up Snowdon seems a tiny bit less daunting.
22 July, 2012
I had my induction at the gym this week and joy of joy, I have discovered a machine that allows you to run without the impact of hard ground, which for my 54-year-old knees is brilliant!  Gym machines are so high tech now that they include iPod docking stations, fans and a key system that tallies all your exercise  – so when I 'keyed out' I had run 2.2km and lifted 900kg in weights!  I felt really elated and even a little disbelieving!
So aside from embracing exercise more regularly into my life I am starting to think about my relationship with it and why I hang onto this notion that a) I hate it and b) I'm rubbish at it.  Possibly, at the heart of it is that I see myself as being very uncompetitive and never excelling at anything sports related.  I then go on to make that mean that I could never be any good at any sort of physical activity!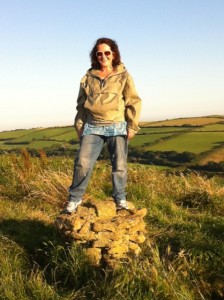 But actually when I start to dissect this there are some sports activities that I am reasonably good at – swimming, cycling, table tennis and I remember I did used to love rounders when I was at school!  So now is the perfect time to give up that story about myself and start enjoying an activity that keeps me healthier, happier and gives me the opportunity to live longer.  What's there not to love about that?!
So in addition to the gym this week I have also done some hill walking where I live in Dorset. It was a fairly hard climb through a long covered tree tunnel which came out at the top with glorious views across the hills and out towards the sea.  I felt elated and stood on a rock at the highest point.  Maybe climbing does have something to offer…
29 July, 2012
I did however find the hill climbing a challenge.  Initially all is okay, but then I start to get out of breath and find myself looking ahead for landmarks so that I can have a rest.  Then the search for landmarks becomes more frequent and, to be honest, a bit of rage starts to build inside me!  I am not good at conversing with anyone I am walking with and prefer to concentrate on what I am doing and listen to my iPod. I am aware that this may not be great for the people I am with but at the time I am not prepared to do it any other way!
So this is the challenge for the week ahead.  Can I channel my inner frustration into something more positive so that when I get to that point I have described, I am left with a sense of achievement, rather than a feeling of "I hate walking uphill"!
Another thing I am taking on this week is doing some specific exercises for my knees because I have been hearing lots of horror stories about the climb down – it appears that you are more likely to injure yourself when walking downhill.  I do take comfort in that Kim, Climb Any Mountain's founder is a trained physiotherapist, and will be with us when we climb Mount Snowdon, but ensuring that my knees are in tip-top condition seems a bit of must.
I have four more hills walks planned before we leave for Snowdon, including Golden Cap, the highest point in Dorset.  That will be a good photo opportunity when I do make it to the top!
6 August, 2012 
I have had a bit of a breakthrough this week!  As I had promised to myself I climbed up Golden Cap which is the highest point not only in Dorset, but in the south west of England.  And surprise, surprise, I actually enjoyed it!  So what has made the difference?  I think it is because I have been walking uphill regularly – at least twice a week – and this has had the effect of shifting my thinking and perception of how I experience it.  Don't get me wrong, it is still hard work but I am no longer wedded to the view that I can't do it. Wooohooo!
What is really interesting about climbing (in the simple sense, i.e. not rock face climbing!) is how quickly you ascend so the experience of gaining height happens very quickly.  This creates the impression of making rapid progress which is definite plus point.
This week I have also been out on my bike (and fallen off!), been sea swimming several times, which I love, and have been doing some specific knee exercises which will hopefully make the Snowdon ascent much more pain free.  My new walking boots are feeling pretty good and I am on target to lose the 10lbs, I had promised myself I'd lose, by the 26th of August.
Next week is the last week before the climb so I am planning to get in a few more hills and then I will be ready to go.  I have started to see a whole new perspective on the Dorset coastline which is so spectacular and breathtaking.  Steve, my partner, can't quite believe what is going on!!
 13 September, 2012
Maybe walking uphill isn't so bad after all!
On the days leading up to the climb I found myself getting increasingly anxious: what if I couldn't make it?  What if I slowed others up?  What if I fell and injured myself?  But all that started to melt away when we arrived in Snowdonia.  Wow – it is a beautiful part of the world and I felt such a spiritual connection with it because of my mother.  Somehow it felt like she was close by and that everything was going to be OK.
The morning of the climb was cool and rain free (little did I realize how important that was!)  When we got to the campsite there was a hive of activity and it was great to see so many people I knew.  I felt properly kitted out with my well worn-in boots, layers of clothes, a small rucksack and some walking sticks.
We finally set off about 11am and started to make the gentle ascent.  However within about 20 minutes I had to haul myself over rocks whilst keeping my balance.  After about an hour we stopped for a rest and someone asked 'how far are we?' – 'Oh, about a quarter of the way' was the reply. WHAT! I was sure we were further ahead than that.  But in reality there was no time for doubt or too much reflection as we had to move on.  The climb then started to get harder, the terrain rockier and more unstable underfoot.  Steve, my partner, who has climbed Snowdon before kept saying 'this is worst bit'.  By the third time he had said that I was in all honesty losing a bit of confidence over whether or not I could complete the climb, as I could still not see the top!  However the weather continued to be glorious and I started to realize how lucky we were – the views were really spectacular and the fact that there was no mist or rain meant that the pathway was always clear ahead.
After about three hours we finally reached the summit which was amazingly busy (this being a summer Bank Holiday weekend) and there was a real party atmosphere up there.  It was fantastic to see so many people at the top and there was this shared sense that this was something we had all achieved together.
Then began the long descent down, which in hindsight was much harder than the climb up. Everyone had already told me this, but at the time I could not envisage how going down could be harder than going up!  How wrong I was.  The descent down took four hours by which time every joint and muscle from my hips down hurt.  I was very grateful to have some walking sticks to lean on and help alleviate the discomfort. During the last hour I walked with the lovely Caroline who was an inspiration as she laughed and joked her way down and encouraged me on to the pub we finally stopped at.  She too was in some discomfort but we definitely kept each other going.
When we finally got to the pub we ordered hot chocolate and whisky and oh boy, it tasted good.
So that is it – I have achieved what I set out to do.  It has changed me in more ways than I know.  I no longer hate walking uphill and I never thought that would be!  I am already thinking about the next challenge – coast to coast, Ben Nevis, maybe even Kilimanjaro.
This is what happens when you climb a mountain!
---