A big thank you to our AJ Bell Triathlon Fundraisers
Attracting over 13,000 participants and 30,000 spectators each year, the AJ Bell Triathlon has become an iconic event  in the sporting calendar. This year was no different. With a variety of distances, routes and many categories to choose from, Climb Any Mountain was ably represented by Julia and her team and we are very thankful to them for all the hard work they put in. We also want to say a big thank you to all who donated money and sponsored Julia and her team.
See below for Julia's account of how the Triathlon went.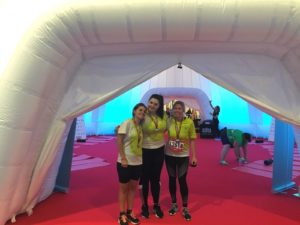 Taking part at the triathlon sprint relay at the world's largest triathlon was one of the most thrilling sporting experiences. Our swimmer started with a bit of confusion as we didn't realise she was supposed to be in the water at the start time but she was only at the start line. After the initial panic, the organisers were lovely and made sure we could still take part. After a speedy 21 minute 750 metre swim in the River Thames, it was my turn on the bike.
Our runner ripped the relay tag off our friend's ankle, strapped it to mine and off I cycled. I pushed as hard as I could, panting all the way and thinking about the money we'd raise for Climb Any Mountain. I completed the 20 km in 46 minutes and then passed on the relay tag to our runner. She raced around the course in 30 minutes through the rain.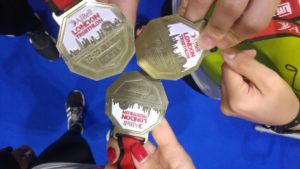 Triumphant at the end, we got our medals and celebrated a proud finish time (including transitions) of 1:44 for the whole course. So far we've raised £537 and we'd love to keep raising more!"
If you would still like to sponsor Julia, Amy and Ally, please click here.
---