Our Climb Any Mountain Challenge Events
As you all probably know, at Climb Any Mountain we love a challenge. Our commitment to transforming the living conditions of people living with learning disability and mental illness in South Africa is our biggest, but we enjoy taking on new ones that support this greater cause.
We're now looking at "what next" and have got a few events planned for the coming months.
London Triathlon 6-7 August 2016
The AJ Bell London Triathlon takes place on 6-7 August 2016. This event is the world's largest triathlon attracting over 13,000 participants to Docklands, London. With 4 distances (Super Sprint, Sprint, Olympic and Olympic Plus) there is something to suit all needs either as individuals or as part of a team.
Our founder and trustee, Kim and Neil Danks have taken this challenge on for Climb Any Mountain, with Kim taking on the Olympic Course challenge (1500m swim, 10km run and 40km cycle), whilst Neil is taking on the Sprint Course challenge, (750m swim, 5k run and 20k cycle). Read more about the event at www.thelondontriathlon.com
The Henley 10k Family Fun Day 2016 – Sunday 11 September 2016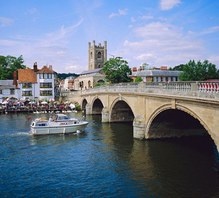 All ages and family fun day by the River
Why not join the Climb Any Mountain team  for a fun day by the River? We have a 'Climb Any Mountain Team' that we would love you to join, as we go on a 10km loop along the river near Henley.
Henley's riverside location makes for a great place for a 'Mini Challenge'. With a family fun day at the start / finish  (including a big wheel, other rides, BBQ) – it's a great event for the whole family and friends – there is something for everyone. Join us!
How to take part
Pay a one off Registration Fee. Sign up online as part of the 'Climb Any Mountain Team' (Team Leader: Shirley Doyle | Team Size: 15).
The registration fee is payable online:
Adults (14+)  – £15 each
Children (6+) – £7.50 each
Aged 5 and under – FREE
Read more about the Henley 10k Mini Challenge
---