Developing and extending person-centered thinking in South Africa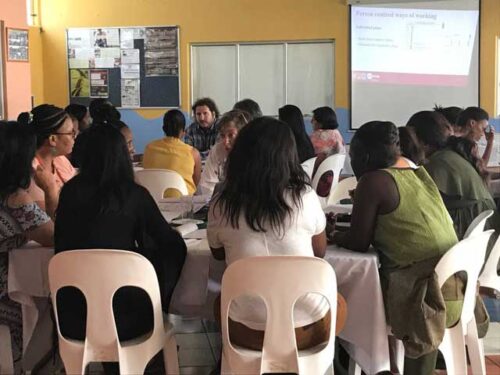 Climb Any Mountain's commitment is to empower and enable organisations in South Africa to deliver person-centred services, bearing in the mind the very different funding and regulatory context within South Africa. We believe that whilst the project adopts a Community Integration Model, it is the physical infrastructure of services that could be perceived as institutional in nature. However,there are shifts in the mindset and approaches that can bring about real and lasting differences to people's lives. We also believe that where organisations can learn from each other to facilitate this shift, this can happen with fewer pitfalls and hence happen faster and with better outcomes for people.
In June 2015, we started a programme of support with the Pietermaritzburg Mental Health Society (PMB MHS). This involved a baseline assessment of services, along with a support programme to develop and extend the organisation's capacity to deliver person-centred services.
We are now thrilled to have extended this programme of support to Durban and Coastal Mental Health (DCMH). In February 2017, we conducted a
baseline assessment of services at DCMH. The intention of the visit was to review the support currently provided to one of the residential services as well  as support provided in the associated day provision Challenge Protective Training Workshop Programme.  The other objective was to develop and extend the skills in person centred thinking.
The visit took place from 23 February and 3 March, and was conducted by Zac Taylor and Mandy McQueenie.  Zac and Mandy are employed by Mencap Royal Society, who generously gifted their staff time to support this initiative.
We are excited to partner with Durban and Coastal Mental Health and see this initial visit and assessment as the first step in our journey.  We are also very grateful for the extensive expertise and support of Mencap, without which this work would not have been possible. We look forward to putting in place a programme of support around agreed milestones with DCMH in the 12 months ahead.
---